PASSION
We are passionate about what we do and we love challenges. When faced with a hurdle, we jump over it with solutions.


COURAGE
We have the courage to speak our minds, challenge the status quo, and take risks.

GENEROSITY
We are generous to each other with our time, with our craft, and with our knowledge.

HONESTY
Our workforce acts with honesty and we are candid and transparent in what we do.

EXCELLENCE
We are relentless in our pursuit of victories and humble in our successes.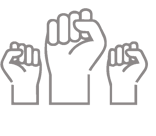 INDEPENDENCE
We are bold in taking calculated risks because the riskiest thing is to take no risks.

CURIOSITY
We believe in exploring, we are willing to go to new places, open to testing and learning as we move forward.

SHREEJI WOODCRAFT PVT. LTD.

B-803, Western Edge II,
Western Express Highway,
Borivali, Mumbai – 400066.
Maharashtra.

COPYRIGHT © 2021 SHREEJI WOODCRAFT. ALL RIGHTS RESERVED.