Considered to be the best FRP Door Manufacturers in India
From the house of Shreeji, one of the most trusted FRP door manufacturers in India, comes a wide range of custom FRP doors to fit to your specifications. These doors are manufactured using supreme polyester resin fiberglass coating to make them 100% water resistant.
CONSTRUCTION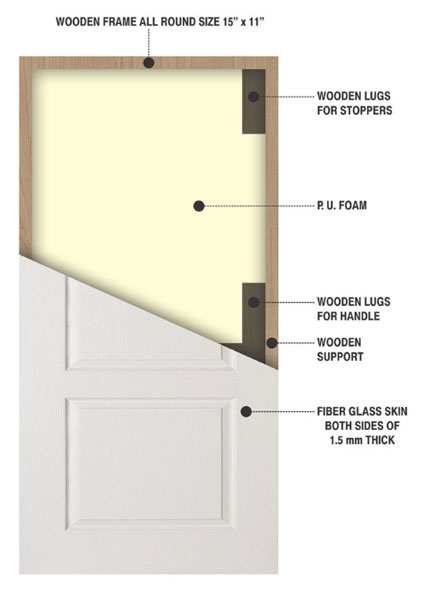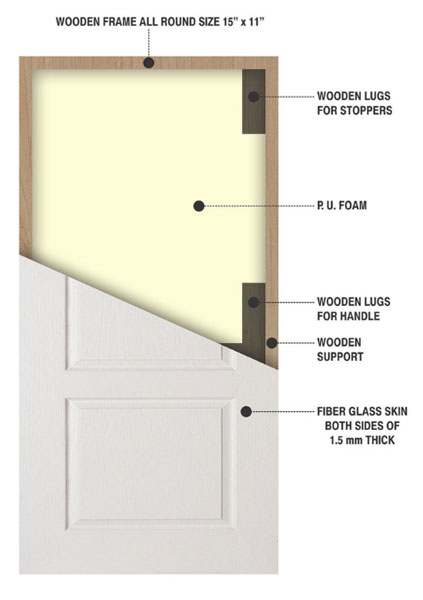 Elegance and excellence come together in Shreeji's Fiber Reinforced Plastic doors. Featuring a polyester resin fiberglass coating, these masterpieces are 100% water-resistant and are specially designed for washrooms and terraces.

FRP doors offer freedom from painting, exact sizing, and designing with zero maintenance. They can be completely customized in a hassle-free manner as per the specifications and desired shade and design. All the more, we can deliver them in bulk quantity. Our range of doors, frames, and solutions can also be custom-designed by an architect as per their client requirement.
FIBERGLASS SKIN BOTH SIDES OF 1.5MM THICKNESS
SAlLIENT FEATURES
SHREEJI WOODCRAFT PVT. LTD.

B-803, Western Edge II,
Western Express Highway,
Borivali, Mumbai – 400066.
Maharashtra.

COPYRIGHT © 2021 SHREEJI WOODCRAFT. ALL RIGHTS RESERVED.