Most Trusted PVC Profile Wrapped Door Set Manufacturers
Shreeji Woodcraft, the best known PVC profile wrapped door set manufacturers in India lay special emphasis on strength and beauty. The high-end finish of profile wrapped doors is trending worldwide in a big way for many reasons. They are renowned for their unmatched quality and are ideal for both commercial and residential segments.
CONSTRUCTION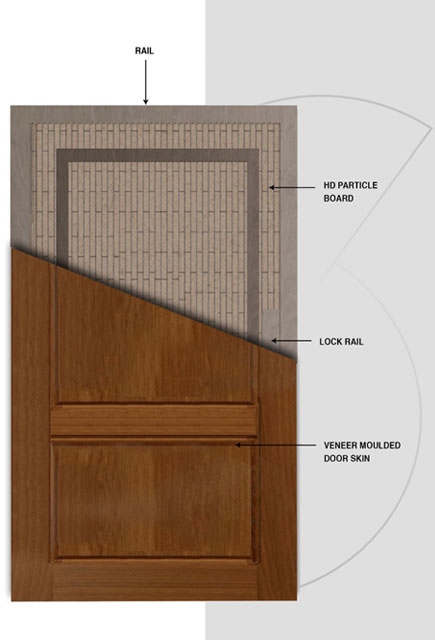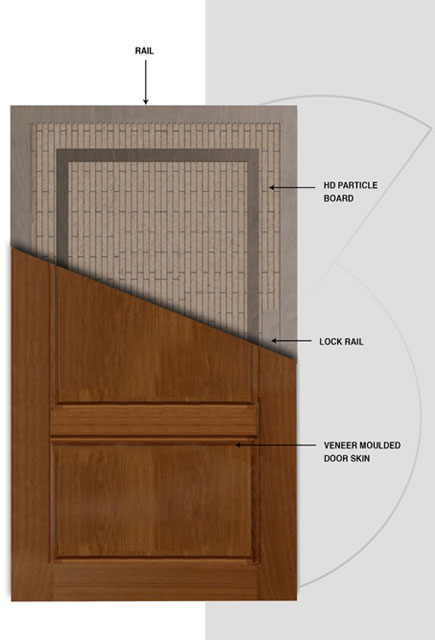 Our Veneer/PVC Laminate Moulded Doors are skin moulded doors coated with high-grade PVC foil that showcases a pre-finished tasteful appearance. We deliver these paint- and polish-free, zero maintenance masterpieces at your doorstep—redefining convenience for you.
Veneer Moulded Doors – A veneer moulded door is an eye-catching
blend of beauty and longevity. These doors are designed with imported decorative veneer skins to resist the change in climatic conditions. Comprising a high-quality fiber-board panel, they offer outstanding resistance to shrinking, swelling, and cracking. Plus, their elegance and durability make them an excellent alternative to timber panel doors.

Core options :
Particle board
Honeycomb core
Laminated/Veneer doors : Our range of doors, frames, and solutions can also be custom-designed by an architect as per their client requirement.
They are made using two layers : Particle Board and Honeycomb Core. The high-grade PVC foil or veneer is then pressed with vacuum press.
These doors are available in a variety of designs like 2-panels, 4-panels, 6-panels and even in Decorative Veneer finishes.
THICKNESS : 30, 32, 35, 38, 40, 45, 50 & 55mm in double or single leaf construction..
SIZE : Supplied in standard sizes as per availability.
SAlLIENT FEATURES
SHREEJI WOODCRAFT PVT. LTD.

B-803, Western Edge II,
Western Express Highway,
Borivali, Mumbai – 400066.
Maharashtra.

COPYRIGHT © 2021 SHREEJI WOODCRAFT. ALL RIGHTS RESERVED.