The Biggest Laminate Door Manufacturers in India
Welcome to the house of Shreeji, the greatest Laminated Doors Manufacturer in India. A name that builders, remodelers, and industry leaders choose when creating spaces of distinction. Combining the aesthetics of a natural wood grain and a fine laminate finish, the realistic texture of Shreeji's laminate doors feels like real wood.
CONSTRUCTION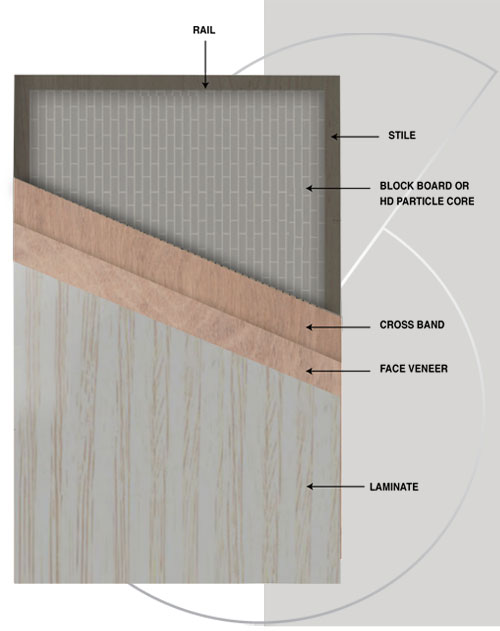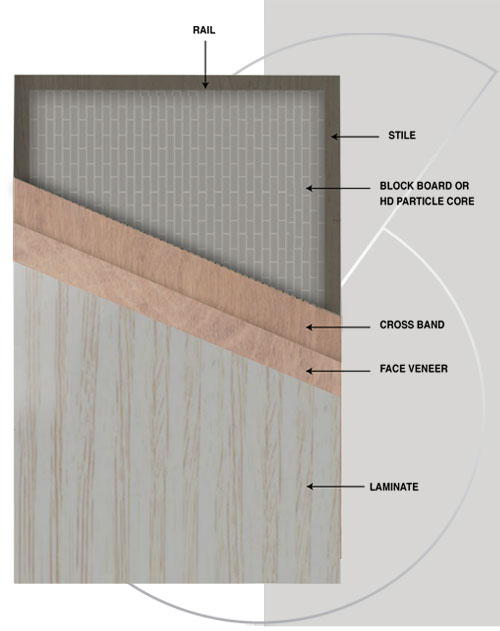 Pre-finished to excellence and ready to install, Shreeji's laminated doors bestow any property with beauty and practicality. Lamination is a process of pasting a laminated sheet with heat and pressure. It offers the ply of the material beneath extended longevity. All the more, the substance used in this process enhances the features and durability of the door. Hence, these doors are lightweight, easy to maintain, and completely washable.
Our laminated doors feature a blockboard core with the cross band, face veneer, and lamination, which are bonded with the Hot Press Process by using Urea Formaldehyde Resin with REBA for Boiling Water Resistant (B.W.R Grade) & Phenol formaldehyde Resin for 100% Boiling Water Proof (B.W.P. Grade). Rendered by us in user-defined specifications, they are always in high demand. They offer outstanding resistance against moisture and termite.
Shreeji's doors undergo the process of lamination with excellent mechanical pressure and bonding against the time-consuming manual process on site. Our range of doors, frames, and solutions can also be custom-designed by an architect as per their client's requirement.
THICKNESS : 30, 32, 35, 38, 40, 45mm
SIZE : Supplied in Standard Size as per ISI or as per the requirements.
CORE OPTIONS :
• Timber core
• Particle board
• Honeycomb core
SAlLIENT FEATURES
SHREEJI WOODCRAFT PVT. LTD.

B-803, Western Edge II,
Western Express Highway,
Borivali, Mumbai – 400066.
Maharashtra.

COPYRIGHT © 2021 SHREEJI WOODCRAFT. ALL RIGHTS RESERVED.