The Largest Custom Veneer Door Manufacturers in India
Meet Shreeji Woodcraft, the greatest veneer door manufacturers in India known for providing patrons the very elegant and extraordinarily beautiful veneer wonders. Our veneer doors feature sublime textures and noble designs conforming to international standards, which is so apt for the luxury segment and premium realty projects.
CONSTRUCTION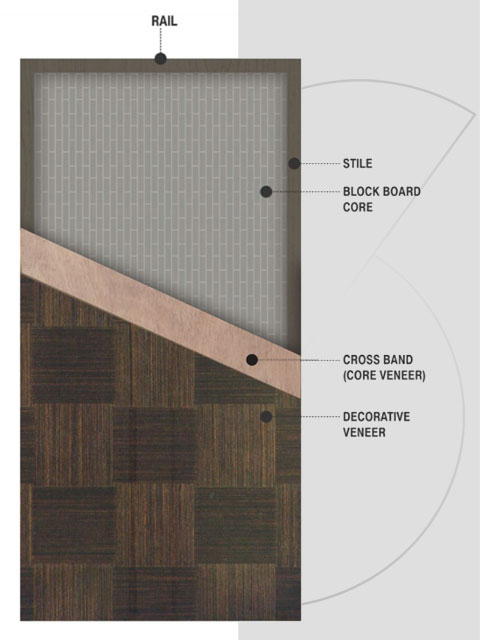 Designed with decorative veneer and finished with natural melamine, Shreeji's veneer doors are a sublime meld of beauty and longevity. These doors are finished to perfection and showcase extraordinary beauty, durability, and strength. Compared to typical doors, veneer-finished doors offer a luxurious feel and follow international standards. Experts often call it the future of the door industry.
Our veneer doors feature a blockboard core with cross band, face veneer, and decorative veneer, which are bonded with the Hot Press Process by using Urea Formaldehyde Resin with REBA for Boiling Water Resistant (B.W.R Grade) & Phenol formaldehyde Resin for 100% Boiling Water Proof (B.W.P. Grade). Our range of doors, frames, and solutions can also be custom-designed by an architect as per their client requirement.
TYPE: (A) COMMERCIAL – With face veneers from selected commercial hardwood.
TYPE: (B) DECORATIVE – with one or both side face veneers from decorative timber like Teak, Wenge, Sapeli and many more as desired..
THICKNESS : 30, 32, 35, 38, 40, 45, 50 & 55mm in double or single leaf construction.
SIZE : Supplied in Standard Size as per IS or as per the requirements.
CORE OPTIONS :
• Timber core
• Particleboard
SAlLIENT FEATURES
SHREEJI WOODCRAFT PVT. LTD.

B-803, Western Edge II,
Western Express Highway,
Borivali, Mumbai – 400066.
Maharashtra.

COPYRIGHT © 2021 SHREEJI WOODCRAFT. ALL RIGHTS RESERVED.