Veneer Door Manufacturers – Give Your Home a Sleek and Luxurious Appearance
Wooden furniture is still in demand and the most trusted option to date – whether it's about your home interior décor or office place. Veneer doors are an integral part of the décor and have their importance in the look of the space. As a result, wooden veneers by veneer door manufacturers say these doors are a classic mix of beauty and aesthetic appeal.
The veneer door manufacturers in India have a solid idea of which veneer doors would enhance the appeal of your place.
Qualities of veneer 
It is always a smart thought to choose wooden veneer doors to strike a perfect balance between functionality and aesthetics, The veneer door manufacturers in Mumbai have shortlisted a few qualities of veneer to tell you why it is a popular option and the most favoured material for interiors:
The veneer doors offer a luxurious look
It provides a rich feel to your place
The veneer door manufacturers confirm that these doors come with additional strength and extended durability
Veneer doors have fewer maintenance hassles (provided if done at proper intervals)
Sleek veneer designs impart natural beauty to your surroundings
Veneer doors for an aesthetic look
Although the famous adage goes that beauty lies in the eyes of the beholder, if you get your veneer doors from a trusted veneer doors manufacturers in Mumbai, you would not have to worry about decorating and uplifting the look of your place for a long tenure.
It is advised by veneer door manufacturers in India that these doors should be for an open and public area. The decorated veneer doors have a solid layer of wax or oil. It makes their surface shine and appealing. For proper protection of the look, veneer door manufacturers in India suggest routine cleaning.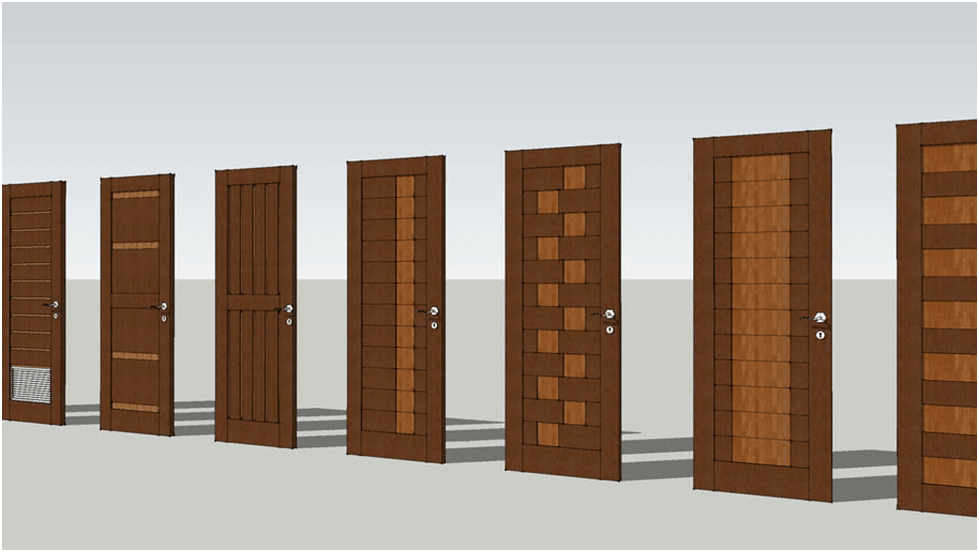 The doors are thin slices of wooden logs to decorate your house. Hence, the veneer door manufacturers are skilled at providing veneer doors that can contrast your wooden furniture to give your place a fabulous look.
The unique and natural polished finish to the veneer doors gives your place an exotic look. As per veneer door manufacturers in Mumbai, regular cleaning and timely maintenance are necessary. It provides a classic look to your doors and keeps its long life.
Buy veneer from the best door manufacturers 
If you are in search of the best veneer door manufacturers in India, who guarantees an exotic look to your place, it ends with Shreeji Woodcraft Pvt Ltd.  

We have been in this sector for a long time and have offered aesthetic designs and professional services to 50+ clients across India. Our clients are happy with our door solutions and keep coming back to us for more furniture and interior works. So, let your demands turn into a reality for veneer doors – Contact us!